Washington Flyer D.C. Trainers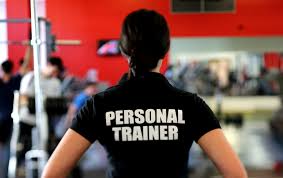 There are more approaches to personal training than there are workout tapes by Richard Simmons. All personal trainers promise you a body that would make Cindy Crawford spit and Gilad look anemic, but they all have different ways of getting you there.
Although it has all of the standard, gleaming weight and exercise machines and an 18-meter indoor pool, The Waterside Fitness and Swim Club (202-488-3701) is "a health and wellness club, not a gym," according to Assistant Manager Wesley Bell. Four one-on-one sessions that are part of the basic membership "reincorporate you back into the gym" by laying out a schedule of strength conditioning on weight machines and exercises. So sure that their motivation is irresistible, Waterside does not require a long-term contract and offers a 45-day refund policy. ($150 enrollment fee, $57/month for a single member, 6-month/annual rates available. Additional personal training sessions $40/hour; 10 for $350.) Out-of-town visitors who belong to clubs that are members of the IHRSA (International Health, Racquet, and Sportsclub Association) have exchange privileges at Waterside.
Definitions Personal Training Plus (202-298-7550) defines itself as a "boutique studio." In addition to one-on-one training at the Georgetown gym ($60/hour, 10 sessions/$550), this is the place where you'll find classes in the most trendy fitness fads. Kickboxing (a non-trademark version of Tae-BoÔ), Core Conditioning based on the Pilates exercise philosophy, yoga, a traffic jam's worth of spin cycles, cardio-step, and 'sculpt and torture' are all on the schedule. Definitions' trainers meet with clients at home, worksites, and by arrangement at other gyms ($70-$100/hour). For out-of-towners, owner Earl Williams contacts the visitor's hometown trainer, faxing copies of schedules and results of sessions back and forth.
If exclusivity is high on your pre-requisites list for choosing a trainer, then David Keller is the man to see. "We are so exclusive and so private that our telephone number was unlisted until just a few weeks ago," says Keller. (202-338-3488). His roster of clients includes such Washington notables as Bob Woodward, Bush administration counsel C. Boyden Gray, and Tipper Gore. You might not actually meet any of them, since the Georgetown townhouse Keller uses is converted into three very private studios. While his waiting list is daunting, his fees are not ($75 for 50 minutes at the studio; $85 for house calls).
Keller's company, Fitness for Life, operates the Health and Fitness Club at the Four Seasons Hotel (202-342-0444). A eucalyptus-scented sauna, indoor pool (88 laps to the mile) with a skylight, and 'quiet room' for meditation are amenities not found in other gyms. So is the initiation fee – $4000 (plus $225/month), which explains why there is rarely a wait to use the StairMasterÔ. Hotel guests have complimentary use of the facilities, while personal training sessions for guests cost $85.
Mary Wolk oversees the personal training program at the National Capital YMCA (232-6700). If you can't find a piece of exercise equipment here that you like, it's because it hasn't been invented yet. The Y brags that it gets the newest equipment as soon as it's available, and every brand of workout gear seems to have its own studio. Check out the interactive machines, which electronically track your workout plan and monitor your progress. One-on-one sessions cost $45; a 15-session package is $525. That's above the membership fee (starting at $848 annually) for the Fitness Center Membership.
The antithesis of a hard workout for a hard body is found at H&H Flotation Spa in Tenley (537-7260). After a long, hot shower, clients drift on a warm, saltwater floatation bed. "You are totally weightless," explains owner Leyla O'Day. "All the tensions in your body, in your life, go away." After floating for an hour, there's another soak, this time in a hot tub. That's followed by a body massage. ($70 for the package.) Lord of the Dance star Michael Flatley visited when he was performing in DC. She also sees a lot of names from the Hill, but when asked just who visits, she smiles coyly. "They come here to escape."