Distinct Features Avid Pronet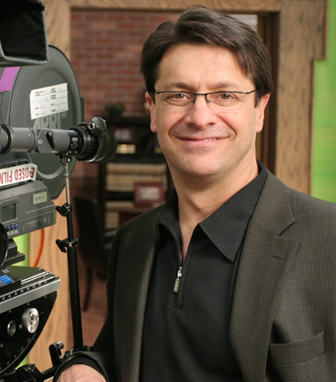 Forget Hollywood. The new hot spot for feature films is…
Ottawa, Canada?
That's the master plan for Distinct Features, a production house that's starting to get serious attention for its low-budget, high-quality feature films. With two features completed and three more in post-production, it's moving towards realizing the dream of many small production houses – that of becoming a feature film studio.
Like many independent film studios, Distinct Features began life producing corporate and commercial videos. Derrick Diorio set up shop in Ottawa six years ago with an Avid Media Composer 8000 with the film option, a small staff, and a lot of ambition.
One of the staff was a 20-year-old film editor fresh out of college, Garry Tutte. Like his boss, Tutte wanted to work on feature films, but getting any sort of editing job satisfied him.
"When I first started, corporate videos were great. I was just happy to be working in my field and doing my thing." Five years later, he's Distinct Feature's senior editor\designer. The designer part comes in because "I do a lot of the graphic design work as well as the editing."
Ottawa is Canada's capital city. Being a government town, there was a lot of work to be had. For five years, Diorio worked at building recognition with quality commercials and corporate and government work, until it raised the money for its first feature, a 16mm opus called "Two's a Mob." A parody of the Mafia movies popular at the time, it was – in Tutte's words – "a great learning experience."
It was back to the commercial realm then, but the emphasis was shifting. Diorio Productions changed its name to Distinct Features, moved to bigger facilities, and "changed our mindset as much as anything else."
Using "Two's a Mob" for entry, the studio pulled together financing for a three-picture deal. The first was "House of Luk," a 35mm feature starring Pat Morita ("Karate Kid") and Michael Moriarity ("Law & Order"). It was accepted into the Montreal and Palm Springs International Film Festivals. The second of the three, "A Taste of Jupiter" with Terri Garr ("Mr. Mom") and Eli Wallach ("The Magnificent Seven") has been submitted to those festivals and the Venice and Toronto Film Festivals as well. Tutte's starting to edit the third, "House of Death." He's looking at completing all of them by the end of the year.
Although features are everyone's heart's desire, Distinct Features continues to solicit and produce corporate and commercial work. While it's a largely economic decision, Tutte says it's also a good creative move.
"You are editing for a different end in a lot of respects, which does take a bit of shifting gears. You spend a month or two months doing a first cut on a feature, whereas a commercial is in and out in two days."
The commercial work often walks through the door while Tutte is in the middle of editing the feature. But he discovered while editing "A Taste of Jupiter" that those interruptions are often good.
"You really get into the movie when you are editing it. My biggest fear would be that all that thought would be gone and you'd have to start from scratch to get back into the groove.
"Oddly enough, it worked out really well because you got this forced break. There's always one scene that you've had trouble with, and after the corporate gig, you'd find – not that the corporate inspired you so much as you'd had a break from the feature. You'd come back and watch the scene and see how to get around the problem.
"Editing is a career that involves a small, dark room with a bunch of monitors and a life of white, pasty, untanned skin. If you are going to be working in a career that really draws you in like that, it's nice to have a variety that lets you shift gears and lets you work differently so you get to come back fresh on both sides."
Tutte finds the technical differences between corporate and feature work are as significant as the creative differences.
"What we've had to do is up our game a lot on the video and industrial side. For our corporate videos, we've ramped up with dropping in facilities for more graphics and more compositing and faster speeds for rendering 3-D effects or multi-layered effects. We're using other products, like Adobe Affecteffects to do some typography work and that type of thing. We've had to get uncompressed options to continue keeping up with what people expect.
"But with the film side, we haven't changed a thing and we probably won't change a thing. The Film Composer works great. It's solid. We've gone the matchback route out of it. We've gone straight to working essentially in 24 frames per second progressive editing."
In addition to the Media Composer 8000 with the film option, purchased when Diorio first started 6 years ago, Distinct Features depends on the entire Adobe After-Effects Suite for in-house editing work. They give Tutte a solid editing suite. But no matter how advanced the equipment, the basics are never out of vogue.
"There are all kinds of new, incredible products for editing, for video, for composing, and that type of thing, but as far as film goes, it's almost history repeating itself. If you go back to the traditional days of film, you've got a neg cutter and editors, and they are basically hacking away at the movie and building it. When you are editing a movie on a computer, you're always just off-lining on a computer system. You're piecing it together, and the film composer is allowing you to make all these changes and try these scenarios out, and when you are done, you output a cut list and it goes back to the traditional neg cutter assembling the movie."
The 35mm abilities used for the feature films are also used for Distinct Feature's commercial products. Since they own a 16mm and 35mm camera package and a basic lighting rig for 35mm, they pitch their commercial presentations on the fact that it will be shot on film. That translates into another asset for the house. Since Ottawa has a limited crew, every commercial means more film experience for everyone involved.
The other major technical consideration is moving into the HD realm. "House of Luk" was recently mastered to high definition from the film print. That was not done in-house, but by Eyes Post, a post-production house in Toronto.
"The guys in Toronto did all our color correcting and transferred our film to a digital domain. We did all the color correcting electronically there and then mastered it to a HD cam tape and that's where the movie lives."
Eventually, purchasing HD equipment and doing that work in-house is possible, but right now, it's more practical to out-source it.
"If you are doing enough volume, it makes more sense to do it yourself. But right now, with HD gear, they are still kind of fluttering around different formats. A lot of it is starting to get nailed down, and Sony's doing quite well at cornering off that end of the market with their Beta SP formats and digital Beta formats, but there are other people who have taken the risk of that gear. For the amount of volume we are doing, it makes sense to let them deal with it."
Both "A Taste of Jupiter" and "House of Death" will also be mastered to HD. The three films slated to be shot in 2002 might also be shot HD. It's another case of technical abilities matching economic possibilities. A new, small, independent production company needs to sell its product. While critics and moviegoers have liked what they've seen so far, praise doesn't pay the bills or finance the next production. Distribution and paying customers do.
"People are going to need HD product shortly, especially from the film end. What we are getting from the film and TV markets around the world is that people ask about HD and they're told that nobody is buying that stuff right now. It's an incredibly practical way to master a movie. It's a perfect place to make copies from and to duplicate for TV sales or what have you. And you're also in the position of having HD product available for that kind of market."
DVDs also interest Distinct Features. They've dropped in TV Studio Pro on a Macintosh G-4 and are going down the road of authoring their own DVDs. It's a case of trying to anticipate future demand.
"I've never seen where anyone has used the interactive part of the DVDs except for the Director's Commentary or to show outtakes. We're heading down a road where we can experiment a little more."
One of those experiments may involve "House of Luk." The film is set in a Chinese restaurant where three characters see their fates changed based on the fortune in their fortune cookies. It's essentially three stories blended together.
"We realized that this movie would lend itself to being re-cut and do each story on its own. We can do a scenario so that you can watch just a separate story. It would be only 30 minutes long, but that's a more interesting thing to do with a DVD. From an editing standpoint, you get to have some fun with the DVD allowing you to re-cut three mini-movies out of this bigger movie. It's doing something on a second level at the DVD stage."
Low-budget for Distinct Features means a full-length, 35mm film produced for under $1-million. That rules out elaborate special effects and mega-stars mega-salaries. That's not the sort of film the company wants to make, anyway.
"Overall, we are a story-based company. Even in our industrials and that sort of thing, we always have a story line, and we always have a flow through everything, because that makes it more interesting.
"I've seen what other people are cranking out and what some of the major people pass off got entertainment. We're making an entire feature for probably their catering budget."